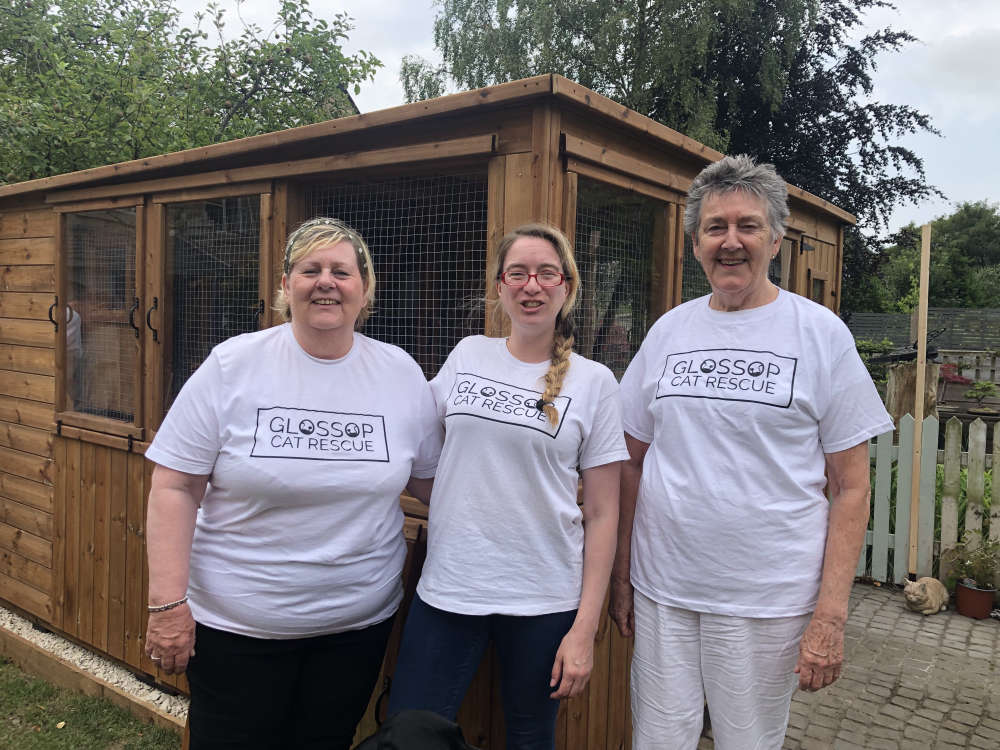 The New Rescue Center in Old Glossop is the Cat's Whiskers – Quest Media Network
CAT RESCUE: Maxine Langtree, Nicola Ormerod, Margaret O'Connell in the middle.
Glossop Cat Rescue only opened earlier this month but has already taken in 19 cats and kittens.
Now a cattery has been built at its Old Glossop base, the Rescue having been founded by Nicola Ormerod, Julie Banks, Margaret O'Connell and Maxine Langtree. All four adopt cats and kittens until the animals find forever homes.
The new cattery was funded by a generous benefactor who wishes to remain anonymous.
It already has its first residents – 12-year-old Freddy, who needs veterinary care – as well as Nala and her three kittens.
The rescue is a charity and relies on donations and fundraising to help pay for food and veterinary care. Several stray animals that were brought in were neutered and neutered.
Nicola says: "The new cattery is called Bella Vista, but we will still keep cats in our homes until we can afford to expand further.
"Julie also has three kittens in her home who were found in the back of an abandoned sofa. We hope Freddy will then sort out his issues and then he can be adopted.
Julie adds: "It's unbelievable how many cats and kittens are simply thrown out on the streets in Glossop. Our goal is to provide adequate shelter for cats in need and the staff to provide that care and we will raise funds to provide all necessary medical care for our cats.
"We will assess and rehom these cats providing appropriate home checks so they go to the right homes for their individual needs.
"All adult cats will be microchipped, flea treated and wormed and will leave our care sterilized."
If you can help with a donation or with a foster family, contact Glossop Cat Rescue at https://www.glossopcatrescue.com/
Learn more about Glossop's Chronicle
Click here for more latest news
Click here to read the latest edition of the journal online
Click here to find out where you can get a copy of the newspaper