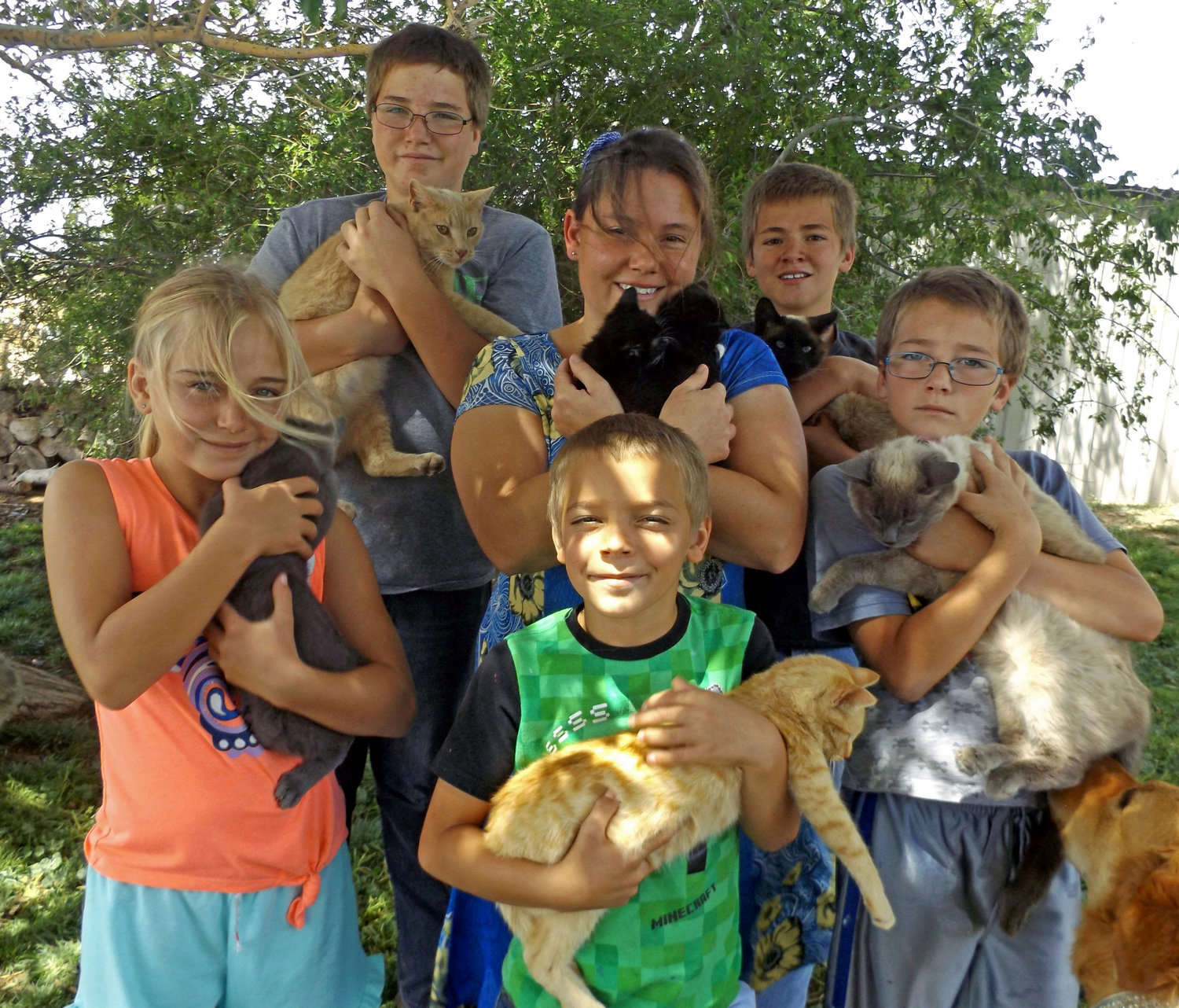 The Art of Caring for Kitty… in Cotton City
By Dawn Aerts
They come from places like Lordsburg and Cotton City, others come from Tucson and beyond. "It all started with a friend who needed a home for a stray cat and a neighbor with a litter of abandoned kittens, so I took them in," said Mininger, who has fostered dozens of felines over the years.
"But the need has grown so much," Mininger said of his Cotton City haven. In recent years, she has started following social posts, responding to calls about homeless cats and abandoned wild animals. "The animal shelter is open again in Lordsburg," Mininger said as she cuddled 2-month-old kittens in her lap. "But I follow the media messages and there is such a need for foster homes."
At her home, cats are cared for, nursing kittens are bottle fed and some homeless or injured people are brought to her home – no questions asked.
In recent years, she has partnered with volunteer and wildlife expert Kim Tankersley, who also has a heart for homeless or injured felines with or without kittens. "She's getting calls about feral cats or people posting notes to help them, which means getting out there and trying to trap, spay then release (TNR) again."
It houses a handful of wild animals in a storage barn which also serves as a "cattery". Her temporary adoptees need bags of cat food, kitty litter and sometimes veterinary care with bills that add up.
Still others are domestic cats that need permanent homes. Today, you can find up to 30 cats living and hovering around the house, around the barn, free-roaming cats that she says are compatible with the multiple ducks, chickens, goats and four dogs that live in harmony with his family.
"When the numbers snowballed was when the local shelter closed (last year) – and I took in at least 15 more cats over a six month period."
According to Roxann Randall, a former member of Lordsburg City Council and a volunteer at the shelter, the need has increased with the closure and the absence of an animal control officer (ACO) on site. "Unfortunately there were a lot of animals running around Lordsburg," Randall said. "Before that, we did our best to return dogs and cats to their owners, or do an adoption; find a foster home or (if necessary) transport them to another shelter," Randall said of the 2015-2019 period.
"The location was good, but the building needed upgrades from ceilings and plumbing to electrical, heating and air conditioning systems.
"The county needs foster families to help animals awaiting adoption, or those going to another rescue… In some cases, it's a matter of time, so foster families can save a life." Mininger, Randall and Kim Tankersley (rescue volunteer) often work with groups that rescue, place or find temporary homes.
As a rescue volunteer, Mininger has also worked with Tankersley on feral cat abandonment and neutering and spaying issues. "Sometimes this project involves orphaned kittens left to starve under abandoned homes or finding them under trailers," Minnger said.
"The work of trap, neutralize, return (TNR) is not easy. This is a "layout" to secure a cat or find their kittens using food bait in a carrier – This can take hours or days to do. Once a feral cat or (kittens) are safe, they may need medical or vet treatment," Mininger said of a closet full of tiny bottles, antibiotics , Gerber jars and bandages.
You never know what you might find with a rescue.
"We have people who want to help save cats or are part of small organizations that post online," Minger said. "But we didn't have a facility open in Lordsburg, so I partnered with Tankersley to take in homeless cats from that area and places close to her home in Tucson."
Spring is a "season of need" for homeless animals.
"It's so important that people have their pets spayed, especially female cats. We are quite remote and a poorer community, but places like the High Desert Humane Society can help with some of that cost. She refers to coupons available (SNAP) to help defray some of the costs; and the Furry Friends of Lordsburg who can help solve the plight of homeless animals.
Randall, who has worked with the Lordsburg shelter and budget, has often helped with donations, kennels, staff, and building a network of foster families and volunteers. In 2016, she was awarded a $30,000 PetSmart grant to spay, neuter, and vaccinate animals in Hidalgo County. But these funds are probably exhausted.
Austin Cannon, the new Animal Control Officer (ACO) at Lordsburg, will open the doors to the shelter Monday through Friday and work to find an animal owner, adoption or foster home.
"My primary focus is maintaining the shelter, caring for the animals and finding owners," Cannon said of dogs on leashes or with collars. "The groundwork for foster care has been laid, repairs have been made, but we need the help of volunteers, people to help, walk the dogs on a Saturday or consider donating food or supplies ."
Volunteers help with everything from kennel care and feeding to socializing pets. "It takes a lot of coordination to find an open rescue, they're often full and you need volunteer drivers to transport them," Randall said. "One employee can't do everything.
Mininger and her children enjoy caring for cats in need of a good home and hope to add a "whimsical" cat cabin to their yard: "I'm looking for someone to adopt my two smallest kittens, Bonnie and Clyde . They deserve to have a forever home.