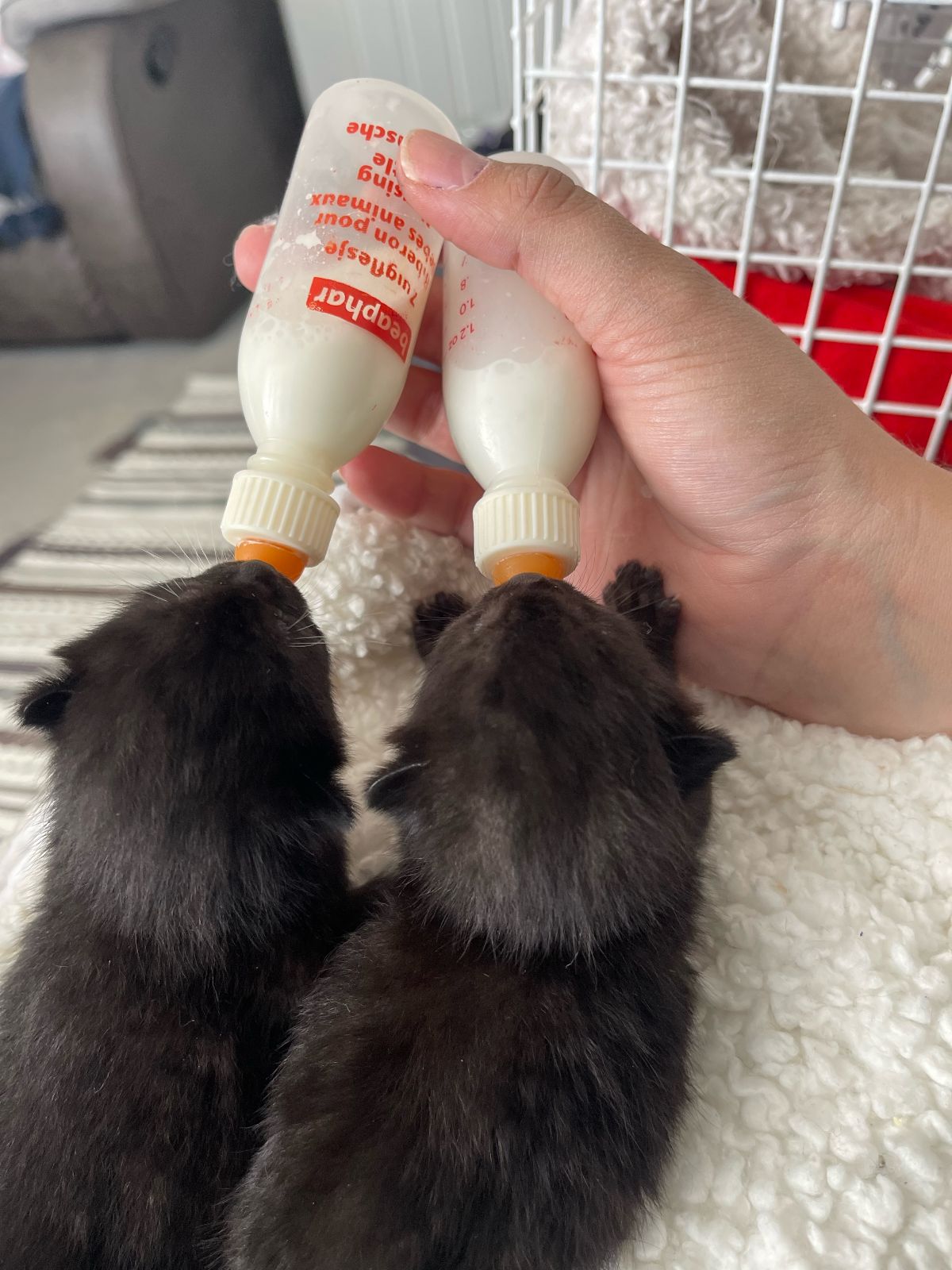 Newborn kittens discarded in Gateshead in a cardboard box
The litter is now taken care of by an RSPCA inspector.
Tiny kittens dumped in Gateshead without their mother are being hand reared by an RSPCA inspector. The three newborn kittens were found abandoned in a cardboard box in an alley by a member of the public. The woman met them around 7am on September 29 at Shipcote Terrace in the Bensham area of ​​Gateshead. There was no sign of the mother, so the woman drove them home and informed the RSPCA.
RSPCA inspector Rachael Hurst now cares for the animals alongside her partner Jamie at their north east home. Jamie looks after them during the day, fitting it into her work commitments, while Rachael gets up every four hours during the night to bottle feed the kittens. Rachael said: 'They need to be fed and stimulated 24 hours a day so it's handy for both of us at the moment. They are very young and a real handful. My partner works from home which helped me during the day and I take care of their care at night. I make sure they get a meal late enough, then I have a 1am meal and get some sleep before getting up at 5am to start all over again.
Newborn kittens are now hand reared by an RSPCA inspector
The kittens were found when they were around four or five days old. There are four females and one male, and they have been named Holly, Ivy, Snowball, Sally and Jack by the RSPCA. Although they have been separated from their mother, the RSPCA said the kittens are doing well. RSPCA Inspector Rachael is well placed to look after the kittens as prior to her current role she worked as a cattery supervisor at the RSPCA Felledge Animal Center and Chester-le-Street. The kittens will be taken there once they are able to fend for themselves, before finding a forever home.
Rachael said: "They were clean and dry and healthy but very hungry when I picked them up. It was sad to see that they were abandoned as they were only five days old and hadn't even opened their eyes and were very lucky to survive. I imagine they will still need two to three weeks of hand rearing. Once they are weaned and eating kitten food, they are likely to go to Felledge. Very often we rely on the kindness of people to help us in these situations because cats like this are too young to go to our animal centers. Sometimes in these situations when we take them to the vet, there are vet nurses in the offices who like to do it. But we're both happy to help, even if they keep us busy. They are lovely and I imagine there will be plenty of colleagues ready to take their turn when I go to Felledge for our monthly inspectors' meeting.
The newborn kittens were found in a cardboard box
Anyone with information or knowledge of a litter of kittens being kept in the Gateshead area or other local area in September is asked to contact the RSPCA Helpline on 0300 123 8018. The RSPCA would like to carry out a check welfare on the mother and there may be other kittens in the litter. The RSPCA always advise people who are struggling to look after their pets financially to seek help from one of the many animal welfare charities. Please visit the RSPCA website for more information.