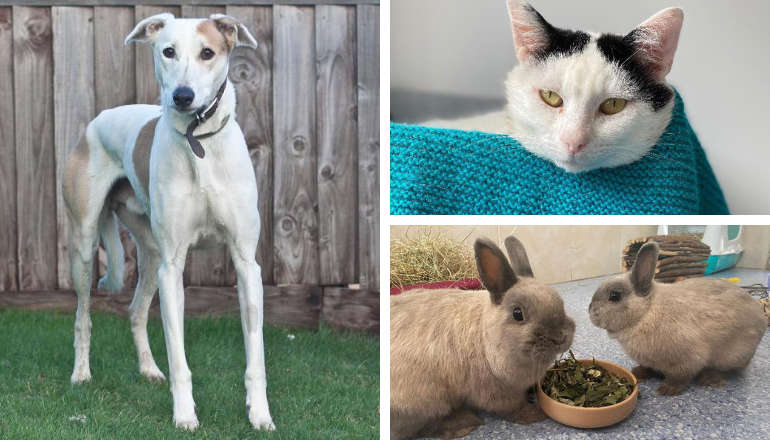 More animals come to the rescue on Isle of Wight as repatriation slows
The RSPCA has launched its annual Adoptober campaign as figures from the Isle of Wight show a drop in the number of rehomed animals.
The animal welfare charity – which runs 14 National Repatriation Centers across England and Wales – released new information this week.
The RSPCA's annual Adoptober repatriation campaign kicked off this week and will run throughout October, promoting adoption and highlighting the many animals the charity is waiting to find a perfect match.
The group fears the cost-of-living crisis will mean more animals are being brought into their care while fewer people are considering getting a new pet.
On the Isle of Wight, the total number of animals relocated in 2021 has fallen from 245 (2020) to 223.
The number of dogs welcomed has fallen from 48 to 26; while Rabbits went from 52 to 27; and other pets – including birds and small furry animals – decreased from 76 to 60.
Cats were the opposite of the trend, with 29% more returnees in 2021 compared to 2020 (108 versus 84).
Animal welfare expert Dr Samantha Gaines said:
"It's really worrying to see animals staying in our care longer and fewer being rehomed year on year.
"Unfortunately, we believe we are really starting to see the devastating impact of the Covid-19 pandemic and the cost of living crisis.
"For those who are able to bring a pet into their home, we urge them to really consider adopting rather than buying.
"Many of our animals will already be neutered, vaccinated and treated for fleas and worms – which will make this much more cost effective – and we will work with them to make sure they find their perfect partner."
Long stays in search of love
The RSPCA's Godshill Animal Center – run by the Isle of Wight branch – is looking for homes for several animals including:
● Todd, a three-year-old lurcher is very friendly and likes to stop and greet everyone he meets.
He is, however, nervous around other dogs and is currently undergoing training to help him gain confidence.
He loves stuffed animals (the more they squeak, the better!) and likes to transport them before his nap. He is a smart boy who is looking for a house where he will be the only pet.
● Cute Steve & Danno Dutch Dwarf Rabbits (named after Hawaii Five-O) were found abandoned in a box by a walker with dirty coats and bad teeth.
Now that they are feeling better, they are looking for a home together but, due to their poor start, they may be nervous about being handled and will therefore need experienced and understanding owners.
They like to sunbathe, dig and nibble on their favorite foods.
● Maguire Stray Cat was cared for by the medical treatment center and is now ready to find a place of his own.
He's a happy guy with so much love to give. He is sweet and friendly, and loves rubbing his belly and pleasuring himself.
He will be a wonderful best friend for a home where he will be the only pet.
● Cuddles12, has struggled at the cattery and hasn't received a single application since joining the branch nearly six months ago.
She slowly learned to trust her carer and now enjoys taking treats from her.
We are sure that over time she will thrive in the right home and would love a potter's garden as she likes to watch the birds through the window.
A full list of available pets is available on the RSPCA website.