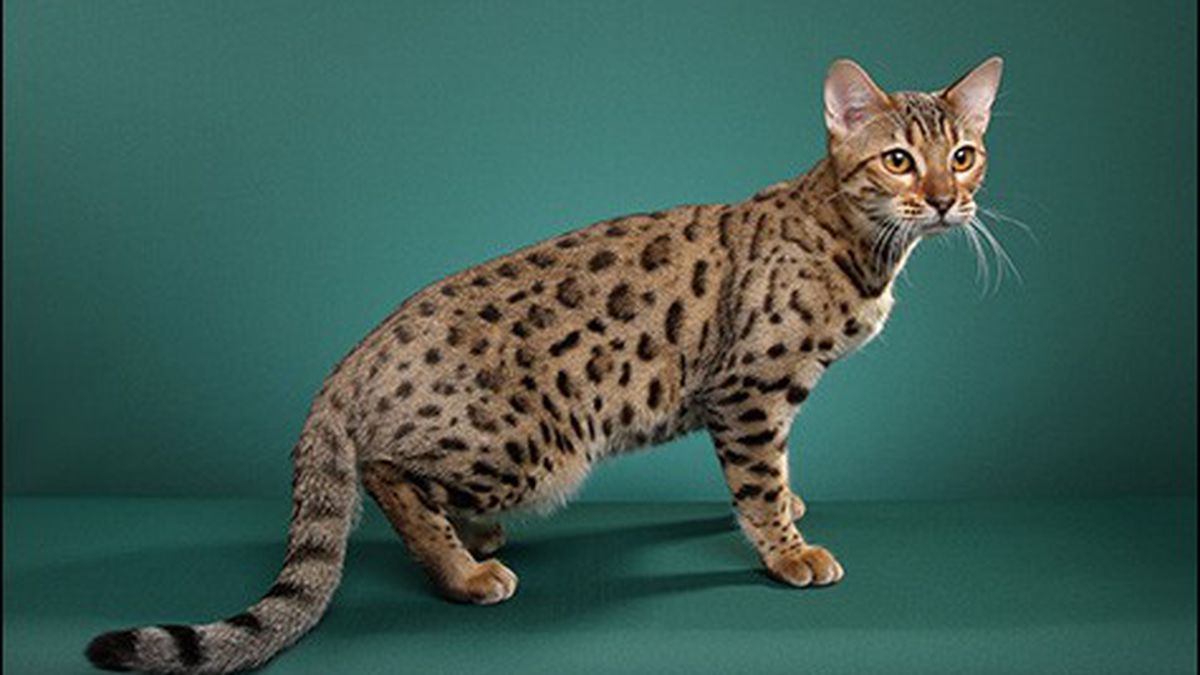 Gone Wild Breeders | East Bay Express
Kris Gunderson has lost three cats in less than two years. The 62-year-old Los Altos resident often adopts cats with serious medical conditions from the Humane Society Silicon Valley – where she is responsible for volunteer programs – because she knows the sick are less likely to be adopted. After three of her cats died in such a short time, her adult children began pestering her about when she was getting a new cat.
"Finally I said, 'I'll tell you what – I'll get another cat when a purebred Bengal comes into the shelter,'" Gunderson said, referring to the breed which is a cross between a wild asian leopard cat and a domestic cat.
Sure enough, three days later, a family showed up at the Humane Society with a Bengal, marking only the second time Gunderson had seen one at the shelter in his thirteen years on the job. The owners said he didn't get along well with another cat in their home.
"Be careful what you throw out into the universe," Gunderson joked. In December, Niko, a five-year-old male Bengal, became the newest member of her family – a cat unlike any cat she's owned before. "It's a bit like having a toddler at home. They get into everything, and I mean everything," she said, noting that the dog-like cat once managed to open a Tupperware container with food in it. "They're very mischievous…and totally fearless."
"I have to say," she added, "I love it."
Gunderson's love for his Bengal touches on a growing tension in the pet world around these rare and expensive breeds that are made to look like wild animals. Bengals and other comparable breeds have become increasingly popular, largely due to their exotic features, high intelligence, and lively personalities. But critics say for-profit breeding is irresponsible, and owners who buy these cats are often unprepared for their behavior and uninformed of the potential challenges. Coming from a rescue background, Gunderson said she does not support this type of breeding and would never buy a Bengal.
In the Bay Area, there are a handful of catteries dedicated to these specialty breeds. Owners emphasize that they are domestic and safe, not "wild" or "exotic" (especially as far as legal definitions go). Some scoff at the "exotic" label, arguing that it is misleading and fuels their critics. Others, however, seem to be embracing it in their marketing.
Either way, these cats have wild roots and are exotic in terms of physical appearance and demeanor, which may make them appealing to those looking for something different. In addition to Bengals, which the International Cat Association officially accepted as a breed in 1986, other examples of this cat type include breeds like Savannahs, Toygers, and Jungle Bobs. Local breeders said interested buyers come from all over the country and some waiting lists have grown in recent years.
Savannahs, who are descended from the African Serval cat, were bred "to achieve a wild look with domestic behaviors," said Brigitte Cowell, who runs an in-home cattery called Kirembo Savannahs in San Francisco and is also a co-founder. of Savannah Cat Rescue, a group of volunteers. Cowell owns five Savannahs herself, including a breeding female. Last year, she adopted a few dozen Savannahs through her rescue organization and sold two kittens for around $2,000 each through her cattery. First-generation cats, known as F1 Savannahs, typically cost between $7,000 and $10,000, sometimes more, she noted. The breed was officially recognized in 2001.
Savannah Cat Rescue advertises its adoptions on a Yahoo group that has nearly 10,000 members – a number that Cowell says reflects the high demand for the breed. "Part of the appeal of the breed is that he's a really cool cat who's very active and very interactive and just makes a really good companion," she said, noting that Savannahs can fetch toys and walking on a leash. "They want to play"
Although "they're not for everyone," savannahs aren't dangerous, Cowell said, adding that another common misconception is that cats are very large. Although generally larger than the average house cat, Savannahs can vary in size. She is suspicious of buyers who want to be sure that the kittens will reach a certain size. "That's usually my first red flag," she said, "because then I think, what if the cat doesn't get to the size it wants? That's worrying.
Local breeders have said they prefer the term "non-domestic source breed" to "exotic". Unsurprisingly, this label doesn't often make the headlines. But breeders periodically receive negative media attention regarding the growing popularity of cats. Some of that story is accurate, but the fearmongering isn't, said Jay Bangle, a Castro Valley resident and owner of the small Bangles Bengals cattery. (Bangle is his first name.)
"Their rise has been meteoric. [Bengals] are an extraordinarily popular breed," said Bangle, who is also regional director for the International Cat Association. She has frequently spoken out against legislation to add regulations and restrictions to Bengals and other breeds. Critics, she said, describe these cats as "super predators that are even more dangerous than your regular wild cat, which is absolutely untrue."
In Benicia, husband and wife duo Nicholas Oberzire and Diane Kush run Styled in the Wild, a small cattery that exclusively breeds Toygers, which are cats that look like baby tigers and are descended from Bengals. "The advantage of the Toyger is really that amazing personality," Kush said. "There's no doubt that Toygers are simply gorgeous…but it's really their personality that overshadows the majority of cats. They truly become a part of your life.
They are as smart as raccoons and as affectionate as dogs, she says. People sometimes worry when they see her hanging out with a Toyger in an open basket, but she said her bond with cats is so strong that she never worries about them running away.
The couple own about two dozen Toygers and have been breeding them for five years. They sell Toyger kittens for between $1,000 and $5,000. Oberzire said Toygers, which the International Cat Association first recognized in 1993, were bred to be docile and non-aggressive. "Anything wicked was never replicated." As a result, he said, Toygers are friendly and outgoing — and make great pets. Oberzire added that they are also very smart and none of their adoptions have ever led to a family wanting to return a Toyger.
Yet animal rights activists remain staunchly opposed to breeding, especially when catteries focus on exploiting a money-making trend. And when it comes to cats, there is already a huge problem with overpopulation and stray cats. (See "The Oakland Cat Trappers" in this issue.)
"I would question anyone who got into animal husbandry of any kind — period," said Allison Lindquist, president and CEO of the East Bay Society for the Prevention of Cruelty to Animals. She noted that breeding can sometimes lead to health issues for animals, especially if the main goal is to establish a specific look. "The loser will always be the animal. That's what's heartbreaking.
Either way, she added, "people should really do their homework before they take in an animal. It's a lifetime commitment."