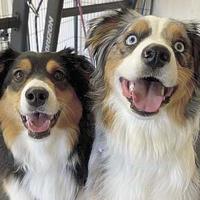 Blaine Kennels makes the dog's state of mind its number 1 priority | New
BLAINE – Although the company has been around for over two decades, it has a rather new partnership in motion.
Blaine Kennels, which opened in 1998, is a full-service boarding, training, daycare and enrichment facility. The business started as a bird dog training program and over the years grew into a behavioral training and boarding kennel.
In early 2022, Follow Me Dogs officially partnered with Blaine Kennels. Executive Director Emily Hanson, who is also the co-founder of Follow Me Dogs, has been helping dogs in the world of animal rescue for over 17 years. She has worked with Blaine Kennels since discovering them in 2017.
"I often called them Minnesota's best kept secret. I referred several dogs to them for training and setting up a structured daycare. I really had never heard of a boarding school that you could walk into without hearing a peek," Hanson said. "I mainly worked with dogs with serious behavioral barriers, so having a place where they could board or even increase their dog's and/or human's social boundaries was a game-changer."
Hanson officially launched Follow Me Dogs with friend and business partner Rachel Snyder in 2021. "Our goal was to help rescue organizations and shelters with their behavioral case dogs," Hanson explained. Snyder added, "After collaborating (for a while), we decided to join forces."
Located at 10193 Flanders St. NE in Blaine, the business now offers opportunities for daycare and enrichment, boarding, assessments and private lessons. It is also known for its Dogsquad Board and Train, which is an intensive four-week dog "boot camp" for any level of training needed. Program dogs stay at the facility and work with different trainers several times a day.
The property has 5 acres that border beautiful wetlands. There are 12 outdoor courtyards which are used for enrichment and play time, as well as plenty of local trees, bushes, grasses and critters for the dogs to continue exploring. Inside there are six areas used for play and enrichment. Two of the spaces also feature treadmills and other confidence-building activities for the dogs. "We put their minds and bodies to work," Snyder said.
Perhaps one thing that makes the company unique from other boarding houses is their focus on being quiet and always keeping the dog-to-human ratio in mind.
"Blaine Kennels has proven that you can operate boarding, training and daycare without filling every square inch of the building with dogs," Snyder said.
Hanson added: 'Keeping the dog to human ratio low, using canine psychology to communicate with dogs in a language they understand to respect boundaries and boundaries so they understand what is expected of them – we are able to operate a business while keeping the mindset and welfare of the dog a number one priority. It's a different approach than most, but it's proven time and time again that it can be done. We set a higher standard in the dog care industry.