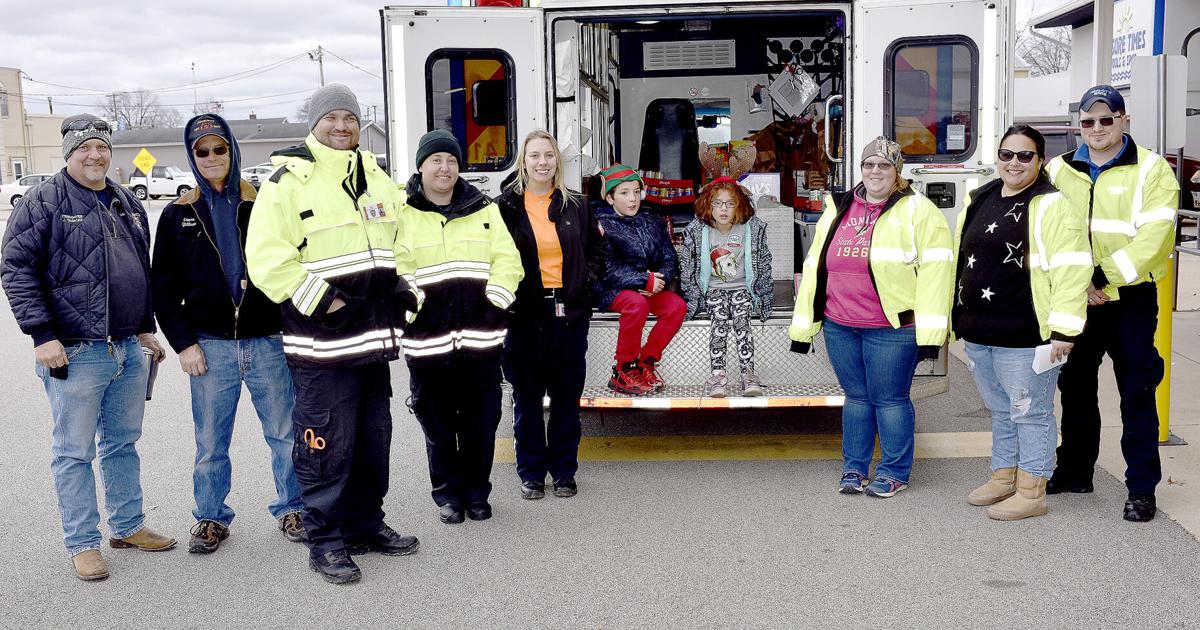 Annual event benefits local organizations | Local news
EFFINGHAM – Local ambulance services and fire districts gathered in Save-A-Lot and Aldi on Saturday for the annual 'Stuff the Truck' event.
The event encourages local residents to donate non-perishable food, baby food and infant formula, cat and dog food, and toys, among other items.
Santa Claus appeared at both places to greet everyone who wanted to visit.
"We hope this thing gets full," said Joseph Thies, Abbott EMS supervisor, referring to an ambulance. "We would like to provide FISH and Catholic charities with all the food they need. "
This is the fourth year that Abbott EMS has participated in the Stuff the Truck fundraising campaign.
"This year is our biggest year because we also have a truck at Aldi," Thies said. "So we have a little competition going on. I wish it was a bit warmer. It was 68 degrees yesterday and now it's 38 and it's windy. We wanted to fly the helicopter today, but the weather did not allow us.
In addition to Abbott EMS, Air Evac Lifeteam, A-1 Emergency Medical Services, Shumway Fire Protection District, and Edgewood Bi-County Fire Protection District all attended Saturday's event.
"Everyone gives their time to do it," he said. "Several organizations will benefit from this event. We were very lucky. We have had very good partners this year.
Thies said a quarter of the items donated on Saturday came from Save-A-Lot.
"They have helped us a lot," he said.
Effingham Save-A-Lot owner Todd Martin was busy Saturday morning during the event.
"This is our first year of participating in the event," said Martin.
Cayla Jolly from Abbott EMS contacted him earlier this fall to see if Save-A-Lot would like to participate.
"I told him, 'Definitely,' he said. "What they're doing is absolutely amazing and happy to be a part of it. It's awesome and it's the right thing to do.
It is also the first time that A-1 emergency medical services have participated in the event since the company started up this year.
"As mutual aid partners, we are happy to help each other this year," Thies said.
"They called (Abbott EMS) and asked if we could help them so that we had a truck parked at each location today," A-1 co-owner and operator Adam Huston said. "We will absolutely want to do it again next year and help the community. "
Donations made on Saturday will benefit Effingham County Crisis Nursery, Jim Beam's Corner Cattery, FISH and Catholic charities.
"We had a really good turnout today," said Brandon Jolly, who represented the Edgewood Bi-County Fire Protection District and Abbott EMS.