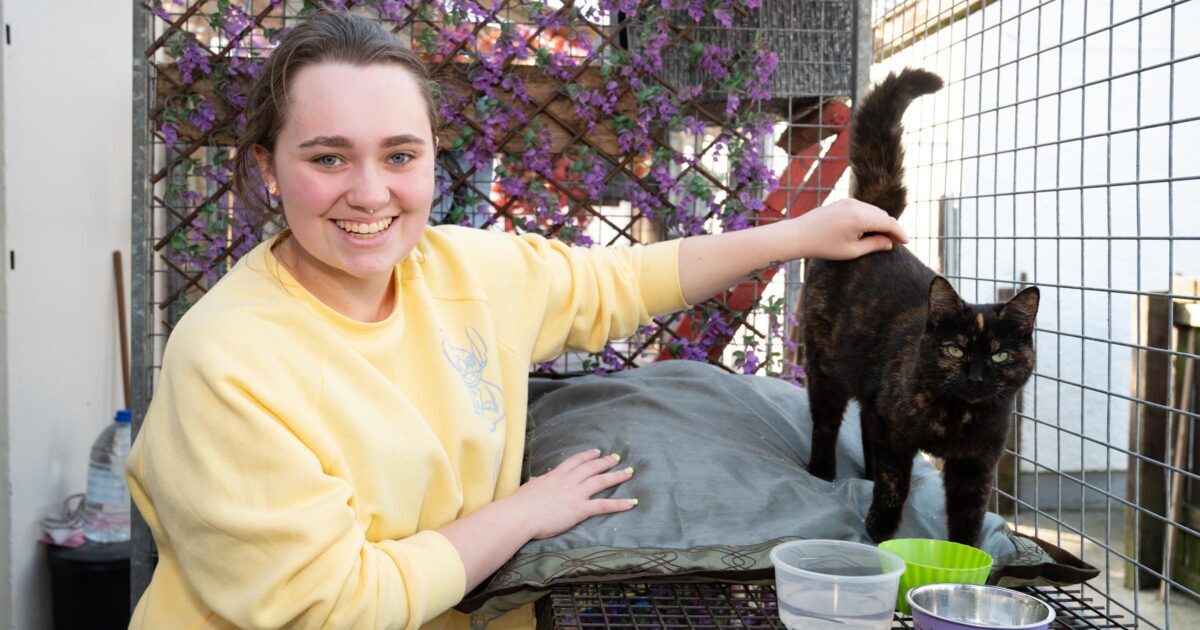 Ambitious Miranda dabbles in animal care education – Donegal Daily
Sponsored article
The career of a young woman from Donegal is just beginning, but she already has some great 'tails' to tell.
Miranda Darnell, 19, from Ardara, dreams of becoming a zookeeper. Thanks to a newly introduced Animal Care Post-Leaving Certificate (PLC) scheme in Donegal, she is already on the right track.
Miranda is currently completing PLC Animal Care at Errigal College Letterkenny through Donegal ETB's Continuing Education and Training (FET) service. The one-year course equips students with the skills, knowledge and competencies to support animals independently under supervision in a range of animal care settings.
Miranda undertook this PLC before going to college in order to acquire the basic skills and experience in animal welfare. She has always had a dog at home and the occasional goldfish, but her ultimate goal would be to work with sea animals like seals.
"I don't think I was ready to leave home just yet. But it prepared me for college," Miranda said.
"I want to be a zookeeper and obviously needed a bit of basic animal knowledge."
Miranda is already taking advantage of the opportunities offered by the program. The highlight, she said, was an Erasmus trip to study in Malaga. She gained experience at a local groomer and in three weeks she gained unique experience of another culture and other methods of professional animal care.
"It was an unreal experience. When I wasn't working, I was sightseeing and meeting new people from different PLCs," Miranda said.
Also this year, Miranda gained invaluable experience at Amanda's kennel and cattery in Glenswilly. "I loved learning about their healing systems. I walked the dogs, fed them, cleaned their kennels and helped take care of their health and dietary needs.
Animal Care PLC modules include topics such as animal anatomy and physiology, grooming, biology, health and safety, and business administration skills.
"It was a really good layout," Miranda said. "Much of the contact is related to dogs, but we looked at a range of animals in anatomy." Students also took field trips to meet staff and see the inner workings of Wild Ireland at Burnfoot and Tropical World at Alcorn's Letterkenny.
Miranda also appreciated the continuing education teaching methods and the mutual respect shared between students and teachers, she said. "We focused on following the schedule and making sure everyone was on the same level. I sometimes stayed after class to learn one-on-one if I got stuck on something. With a small class, we were able to get comfortable with each other and were never afraid to ask a question.
Now that the course is coming to an end, Miranda is about to start a new summer job at the Lakeside Kennels in Dungloe. She also decided to bank on her PLC and apply to college in September. His first choice at the moment is Wildlife Biology at Munster Technological University Tralee.
"I would recommend Animal Care PLC as a good stepping stone, even if you're not sure that's what you want to do. You'll soon see if it's right for you," Miranda said.
The Donegal ETB FET Service is now accepting applications for ten year-long PLC QQI Level 5 courses across the county from September at Killybegs (St Catherine's Vocational School), Letterkenny (Errigal College) and Stranorlar (Finn Valley College ). They include animal care; Art, Crafts and Design; Business Administration; Business studies; building technology; early childhood care and education; Health services; Skills, studies in nursing and sports, recreation and exercise.
You can apply online through their course finder website (https://www.donegaletb.ie/further-education-training/course-finder/) using PLC as a keyword to find the course you want. More information about automata can be found here: https://www.donegaletb.ie/feature/programmes/post-leaving-certificate-plc-programme/
Ambitious Miranda dabbles in animal care education was last modified: May 4, 2022 by Rachel McLaughlin
Keywords: